a comfortable and personalized stay
Our services
Welcome to the services page of Privilege Apartments, the aparthotel in Vimercate that offers a comfortable and personalized stay for your needs.
Our apartments in Vimercate are fully equipped and furnished with every comfort to ensure an unforgettable stay. Moreover, we offer a wide range of services that will allow you to enjoy your stay at our facility to the fullest.
Breakfast is one of the most important moments of the day, and Privilege Apartments offers you the opportunity to enjoy it directly in your room. Purchase it at the reception for a cost of €10 per kit, and you will find a variety of baked goods and pre-packaged products already inside your apartment.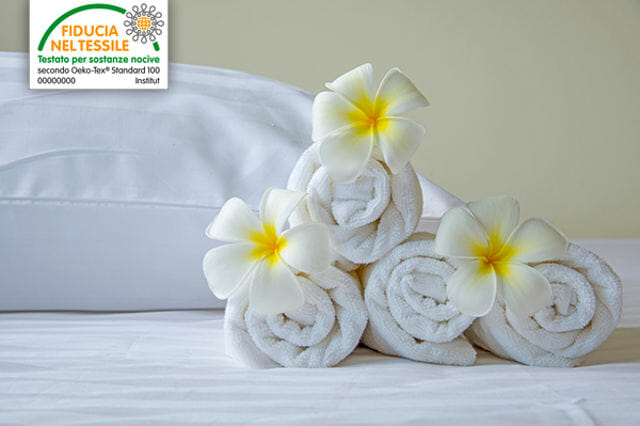 Your hygiene and well-being are our priority, which is why we have adopted the Oeko-Tex Standard 100 certification for our linens, which are microbiologically guaranteed according to the European UNI EN 14065 standard.
Our transfer service is at your disposal to make your stay at Privilege Apartments even more comfortable. Upon reservation, you can take advantage of our exclusive private shuttle service. Contact the reception directly for more information and to learn about the conditions of the service.
Sanitization of environments
Your safety is fundamental to us, which is why we have implemented an ozone sanitization system called HEALTH ROOM, which ensures a healthy, clean, and hygienic environment.
Our covered garage, located on the -1 floor, offers over 40 parking spaces, including disabled parking spots. For long stays, an ecological area for differentiated waste collection is also available. 
Privilege Apartments is the residence in Vimercate that offers modern and comfortable apartments with personalized services to meet your every need, both for leisure and work. We are the ideal solution for those who need a short vacation or those who are looking for a long stay without giving up the comforts of a 4-star hotel.
Contact us now or book your stay directly from our website at Privilege Apartments.